As a chef in an Alaskan fishing lodge, I naturally have a few halibut recipes up my sleeve. The running gag is we can make halibut a hundred ways, and we aren't lying. I'm always reaching into the depths of my imagination to come up with new ways to prepare halibut. Not only is it a crowd pleaser, but it is also one of the most versatile fish to cook with.
This halibut en croute recipe was inspired by a question that people ask me all the time: "As a chef, what is your favorite food?" My answer, while honest, can disappoint some. I appreciate fare from all over the world and marvel at the works of culinary masters. But, for me, you can't go wrong with really good bread and really good butter. That's it. Bread with butter is my all-time favorite food. Anyone who has ever broken a fresh baguette and heard the snap of the cracker crust to reveal the soft, chewy interior knows exactly what I'm talking about.
This dish uses a fresh Alaskan sourdough and butter to form a makeshift crust over a beautiful piece of halibut. They are cooked together so the halibut takes on a rich, buttery flavor. The bread toasts to a perfect crisp to contrast with the moist halibut. I paired the fish with a tangy tarragon and lemon cream sauce as well as roasted broccolini and shallots. This is one of those recipes that looks fancy and tastes five star but only takes about 30 minutes from start to finish.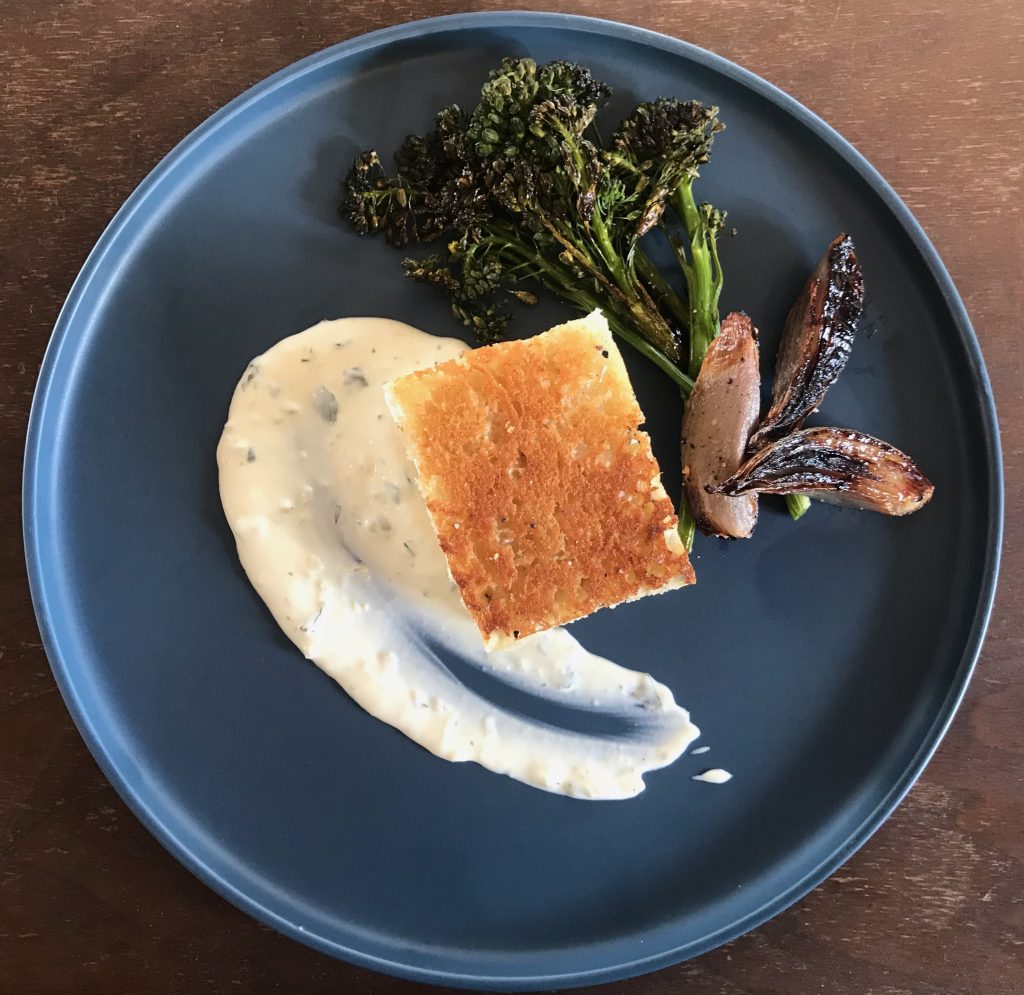 Ingredients
4 6-8 oz pieces of halibut
½ loaf unsliced sourdough
4-5 Tbsp butter at room temperature
1 Tbsp stone ground mustard
2 cloves garlic, finely minced
⅓ c dry white wine
4-5 sprigs fresh tarragon
1 ½ c heavy cream
½ lemon zested and juiced
Salt and pepper
For the sauce
Put a little oil in a saucepan over medium heat, add garlic and cook just until fragrant without any browning. Add 3 whole sprigs of tarragon and the white wine. Reduce wine until only a tablespoon remains. Add cream and reduce until sauce reaches desired thickness, remove tarragon sprigs then add lemon juice and zest. Season with salt and pepper to taste at the end of the reduction process or you risk over seasoning. Last, chop remaining tarragon and add to sauce. Sauce can be stored, refrigerated, for at least a week.
For the halibut en croute
Slice sourdough very thin (¼ inch) and uniform, you will need 2-3 slices. Butter one side of the bread generously and set aside. Prepare your halibut by skinning and boning if not already done, then dry with a clean bar towel or paper towel. If the fish isn't dried well enough it will not sear, just steam. Season the fish with salt and pepper, and very thinly spread the mustard on the top of each piece; the mustard is just to cut through the richness of the buttery fish and the sauce. On top of the mustard place your bread butter side up. Using a sharp knife carefully trim the fish and bread into a uniform square. When you're finished, the bread and the fish should sit flush together.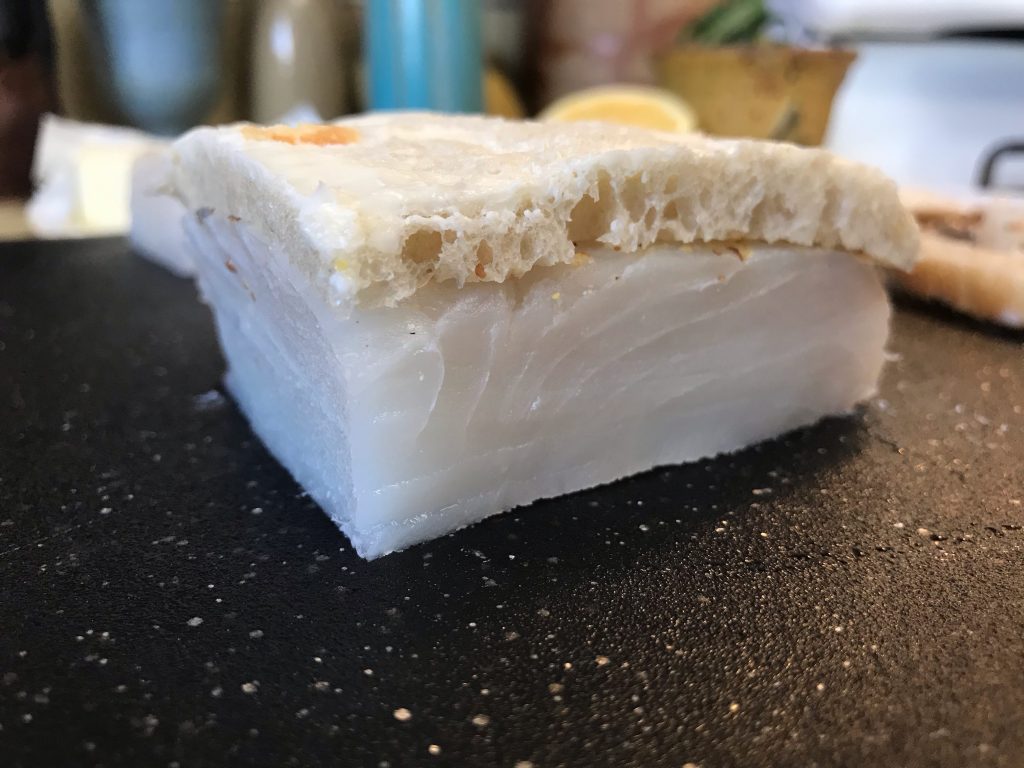 Place the fish bread side down in a pan over medium-low heat to allow the bread to toast. You'll notice the fish beginning to cook through the bread. Once the toast is a beautiful golden brown (about 5 minutes) turn the heat up to medium, add a knob of butter to the pan, and flip the fish to cook the other side while keeping the toast in place on the top.
Serve the sauce underneath the fish as to not lose the crispy crunch of your toast, and enjoy your five-star meal with two-star effort.