One of my favorite challenges as a chef in Alaska, is finding new ways to incorporate Alaskan staples into recipes for our out-of-town tourists as well as local guests when they visit the lodge. The tourists are always happy to taste local fare, and our locally based guests are excited to expand the repertoire of the ingredients they are already using at home. Ingredients like salmonberries, fiddlehead ferns, wild currants, spruce tips, and my personal favorite: sourdough.
I've been maintaining a sourdough starter for over half my life. I've used sourdough to make bread, brownies, cake, and fried chicken. I never thought one of my favorite sourdough snacks would end up being a humble cracker. And yet I can't stop making (and eating) these simple, tangy snacks. At home I like to eat them with soft cheese, at the lodge I like to serve them alongside a charcuterie board with a Mediterranean halibut spread.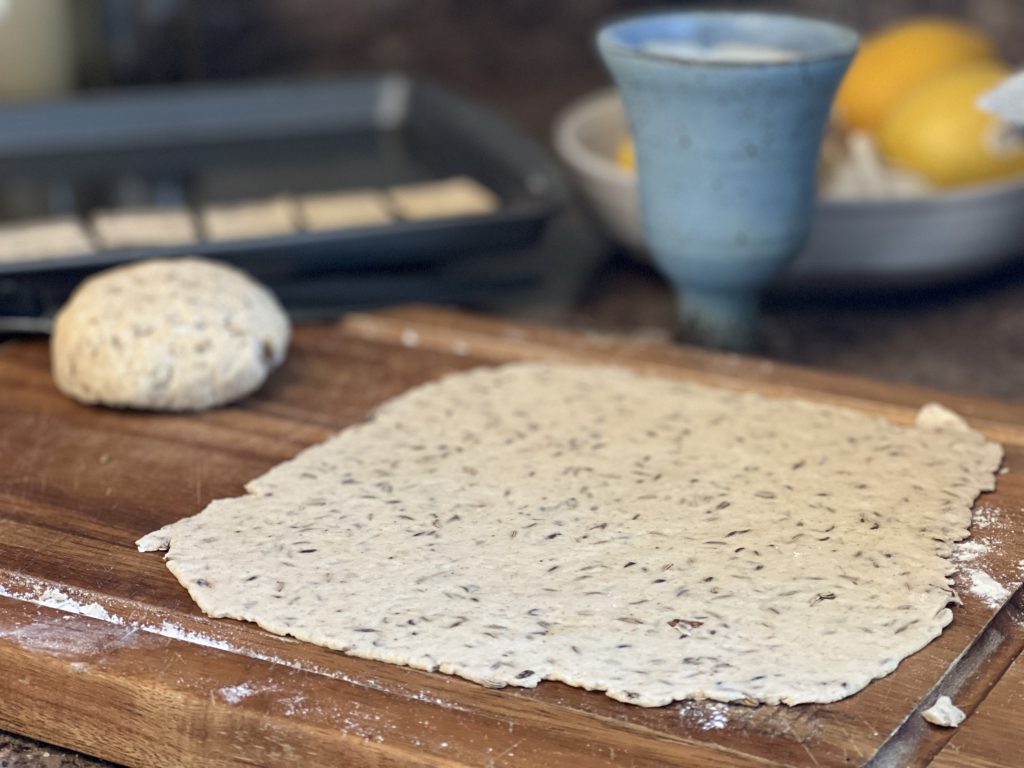 For the sourdough crackers
1 c all purpose flour
1 c unfed, inactive sourdough starter
¼ c toasted fennel seeds
1 Tbsp kosher salt
3 Tbsp olive oil, plus more for topping
Flaky salt for finishing
Preheat the oven to 350°F. Whisk together flour, kosher salt, and fennel seeds. Add inactive sourdough starter and oil and combine into a ball. (It's important to use an inactive sourdough starter, or what some may call "discard," otherwise your crackers will not be crispy.) Once a ball has formed, knead dough until it is tight and smooth. You may need to add a little flour or water depending on the stiffness of your dough. Aim for a less sticky dough, but still pliable. Using a rolling pin, roll out dough in four batches to a thickness of about 1/16 of an inch. Cut into ½ inch squares and prick with a fork. Place on a greased baking sheet and brush lightly with olive oil. Sprinkle flaky salt over the top and bake for 12-15 minutes, rotating at the halfway point.
Let cool completely and store in a mason jar. Feel free to replace the fennel seeds with anything you desire! Chopped nuts, dried fruits, seeds, and dry cheeses are all great substitutes.
For the Mediterranean halibut spread
20oz cooked halibut (I used fresh, but this is a great recipe for leftover fish)
4 oz neufchatel cheese, or cream cheese
¼ c creme fraiche
Zest of 1 lemon
Juice of 1 lemon
6-8 green onions (white parts diced, green tops sliced for garnish)
4 sprigs fresh oregano, chopped
3 Tbsp chopped capers
Salt and pepper
Cream the cheese, creme fraiche, lemon juice, and zest. Fold in oregano, capers, and diced onion pieces. Break halibut into pieces and fold into cheese mixture. I like to keep the pieces of the fish fairly large, ¼ – ½ inch pieces, but feel free to break it down as small as you like. Season to taste with salt and pepper and serve alongside your sourdough crackers.